05/31/2011
Company Profile

COPY & COPY, the first Russian copyright bureau. COPY & COPY was founded in 2002 as the first Russian copyright bureau. Today, COPY & COPY offers services in the sphere of product development – both as it concerns new products and re-branding or repositioning of existing products and services. Project objective.
The main page of the Citycelebrity.Ru portal
Project Goals
CITYCELEBRITY is a nationwide network for active and creative people – from artists to entrepreneurs, scientists to artisans. It is a communications platform where future stars can promote themselves and their activities in the context of their own city. Citycelebrity.ru is a network of city portals for famous people, and those who want to become famous. Specific goals:
give users a tool for self-promotion and for the demonstration of their potential and accomplishments;
attract people and entities which could use their services or otherwise be interested in them: galleries, museums, institutes, foundations, advertisers, governmental organizations, as well as partners and other creative people;
provide convenient and effective communications between users and exchange of opinions and experience among collaborators.
The Solution
Citycelebrity.ru is a portal which automatically generates for any city in Russia with a population of more than 300,000 people, with plans to move to the level of 100,000. The portal begins working as soon as the first user registers. All residents of Russia can become members by choosing the city nearest to them from the list.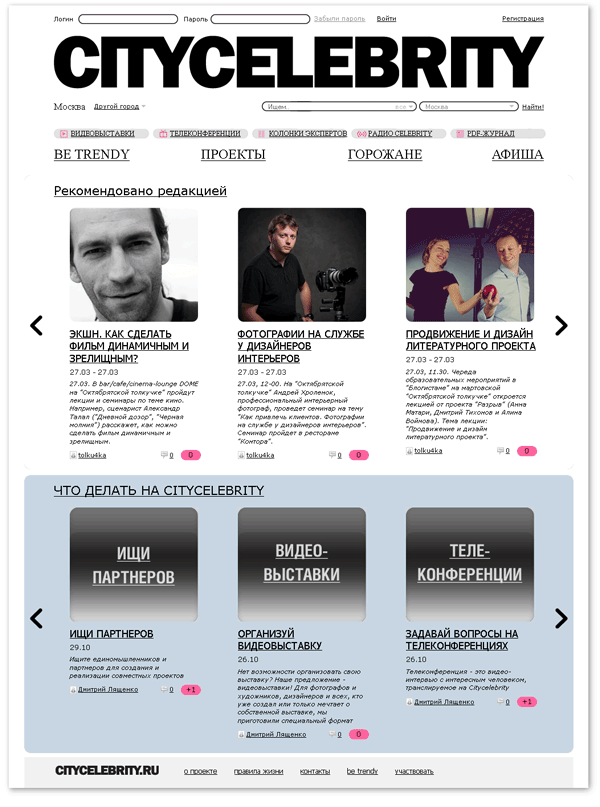 Elements and sections displayed on the Citycelebrity.Ru portal
This large-scale project was realized by Galssoft, a Bitrix Gold Partner. The community created by the portal is a social network. The portal structure is organized in a system of posts of various types: article, event, master class, photo gallery, video presentation, or tele-conference. Depending on the type of post, there are various additional fields. When any post is opened on the portal, related posts, selected by topic, section, and title are displayed on the right-hand side of the screen.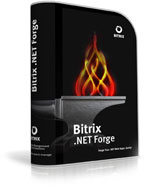 The portal is built on the Bitrix .NET Forge CMS platform. An internet resource of this type has a high level of traffic, so high performance capability of the platform was an essential feature. Aside from the social networking functionality, the portal has radio and video broadcasting capabilities, which required special configuration of the server.
In development, the platform components which were used were blogs, search, user fields, banners, and advertising areas. Additional services were created in the framework of the product's unique architecture, allowing uniform processes of development and support. The project is unusual in its orientation to an extremely wide regional audience. Support for the resource is performed by active users and an editing team. Convenience support of user groups is executed via a specially designed administrative interface.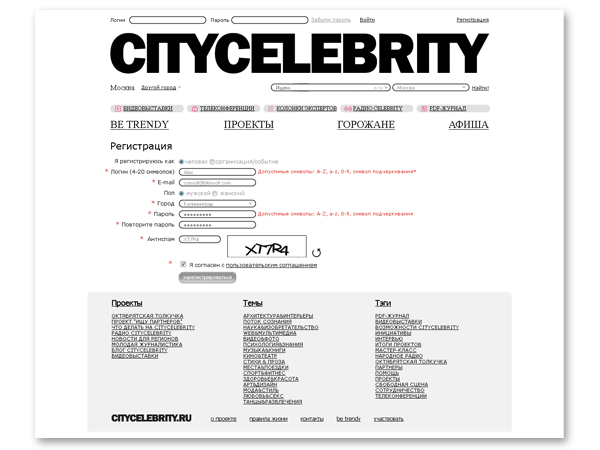 New User Register form on the Citycelebrity.Ru portal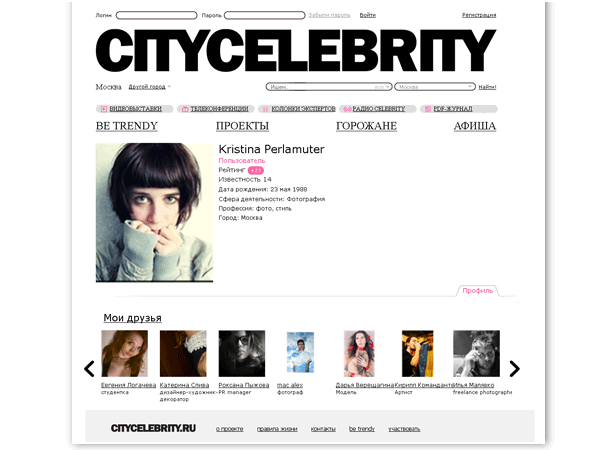 Personal User Page / User Profile at Citycelebrity.Ru
The Result
Today, Citycelebrity.ru is a completely functional portal serving the Russian market. There are 14385 registered users and in more than 70 cities. There are about 100 organization-type users.
Galssoft keeps developing and maintaining the project. It is being dynamically improved, also thanks to the development of new modules and expanded functionality that become available with each new product version of Bitrix .NET Forge CMS.