Free Bitrix OTP Secure Authentication App now in Apple App Store
09/15/2011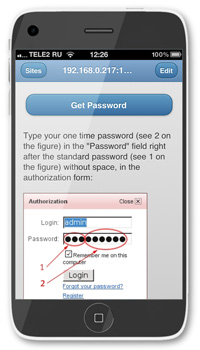 Previously published on the Android Market, the Bitrix OTP App is now made available in the Apple App Store.
ALEXANDRIA, VA. – September 15, 2011 - Bitrix, Inc. announces the availability of Bitrix OTP – a personal generator of single-use passwords – in the Apple App Store. Bitrix OTP is a freely distributed app which can be downloaded and used for secure access to websites, e-Commerce and Intranet solutions built using the Bitrix platform or other products supporting one-time password authentication.
The Bitrix OTP App is a supplement for the standard password system which provides substantially more security for your online store or intranet solution. To engage this feature, a user can simply load the Bitrix personal OTP generator onto the mobile device and then set up authorization on sites based on Bitrix Site Manager, Bitrix Intranet or other systems supporting single-use passwords.
The concept of one-time passwords strengthens the standard authorization process and significantly increases web project security. Previously, a typical one-time password system required a physical hardware token (device), but now with the Bitrix OTP App, website visitors can use this free, convenient app right on their mobile devices.
| | | | | |
| --- | --- | --- | --- | --- |
| | | | | |
| | | | "Bitrix OTP has been developed by Bitrix professionals specializing in web security. This app saves money by replacing tokens or similar equipment which are often used in web projects requiring higher security. Users can utilize the OTP app to create a list of all websites on which they use this security feature." - said Dmitry Valyanov, president of Bitrix, Inc. | |
| | | | | |
This technology ensures that only the authentic user with whom an OTP App is associated can authorize on supported websites. Password theft is absolutely impossible because each password can be used only once. In effect, this means that owners of mobile devices with Bitrix OTP App are unable to tell the password to third parties to allow them to authorize as well.
From the website side, supporting the feature does not make it mandatory. Any user registered on the website can opt for this feature or not. However, for more secure data protection Bitrix recommends that all website administrators use this additional security measure, because the security level for administrative accounts should be high without being cumbersome, which is exactly what the OTP app delivers.
Visit the official Bitrix OTP app page on the Apple App Store website. Besides the iPhone App Store, the Bitrix OTP app has also been made available on the Android Market for devices using the Android OS.
You can watch or download a brief video tutorial on the Bitrix OTP App.
More details on the Bitrix OTP App and the BitrixMobile Technology can be found here.