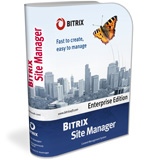 Bitrix Site Manager provides maximum protection from the thousands of threats on the Internet. Every day your website could be attacked many times and damage the integrity of your site.
Why should I protect my website?
82% of websites had at least one security issue in 2008;
E-commerce databases are most likely to be attacked by hackers;
Security breaches cost USD 90 to USD 305 per lost record;
More than 90,000 calls to the top 20 US banks after each phishing attack;
More than 200 new hacking techniques have appeared in the last 3 years;
Avoid damage to the enterprise business image due to data leak.