Function selector
This panel is used to choose an isolated set of functions or entities relevant to a specific functional part of the system. Depending on whether a specific module is installed or not, the set of selector functions may vary.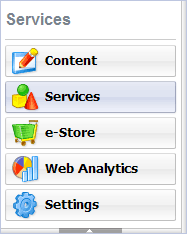 The Content set offers tools which one may require to manage information blocks, site structure (files and folders), or set up and control the document workflow.
The Services function set depends on the presence of modules in the system. The full set of functions allows to manage polls, web forms, advertisement, technical support system, forums and mail system. Custom user modules are also added to this function set.
The e-Store function set contains the commercial catalogue and the web shop management tools. This function set is available if only these modules are installed in the system.
The Web Analytics section is entirely dedicated to functions responsible for collecting, processing and displaying the site statistics. This section is only available if the Statistics module is installed.
The Settings section contains tools which can be used to manage users, currencies, templates, obtain system updates, or adjust other parameters of the system and sites. This section also offers the Tools command set containing the database diagnostics, repair and back-up options.
Functions, content and structure access area
The menu of this panel depends on the function set selected in the function selector. For example, selecting the Content set displays the following menu: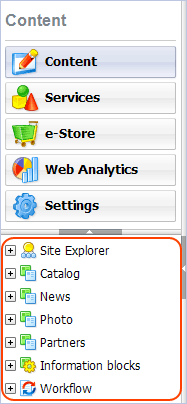 By selecting items in the tree menu, you can directly access the corresponding functions. This causes the work area to offer user interface for using and manipulating these functions.



Control panel toolbar | Course description | Main work area