You can manage interface languages on the Languages form.
Settings -> System settings -> Interface languages: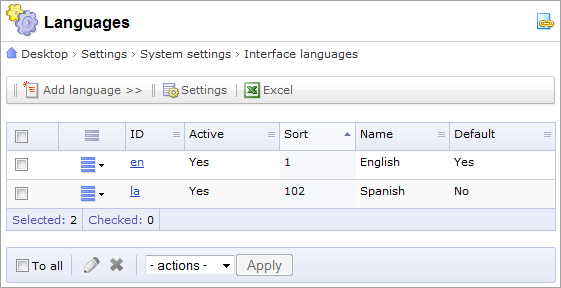 The table entries define the languages in which the system messages can be displayed: notifications, error messages, titles of tables and controls etc.
To add a new interface language, click the Add language button on the context toolbar. You can edit parameters of a certain language by selecting Modify in the action menu, or by double-clicking the table row containing the required language.
Each system language has the following parameters:
symbol language identifier;
encoding in which messages are to be displayed;
date and time display format.
Important!
The system language identifier is used to identify and download the appropriate language files. It must have the same name as the language identifier expected by the Update System.
For example, the server expects the identifier la for Spanish (Latin American) language files. Hence, you will have to create the language with the identifier la before downloading Spanish (Latin American) language files.
You will find a complete list of language identifiers in the
help section
.
Important!
Note that the language encoding (charset) defines the encoding in which information is stored in the system modules. For example, you need to use the
Windows-1251
charset for Russian text.
Remark: in some cases, the UTF-8 encoding may be used. However, this stipulates that all the system languages are also stored in UTF-8.
Assume you want to add the Spanish (Latin American) language to the system. You will have to perform the following operations.
Click Add language on the context toolbar to create a new language record.

After you click Save, the new record appears in the report table on the Languages form.

The Control Panel language toolbar now has a button which being clicked will switch the user interface to the Spanish (Latin American) language.

The last step is downloading language files for the created language. You will find an example of this operation in the next lesson (Installing and updating language files).


Interface languages | Course description | Installing and updating language files