With Bitrix Site Manager, you can easily publish news in the public section of your site by using the visual components.

You can use the components version 1.0. In this case you will find these components in the News drop menu of the Information Blocks group in the Components sidebar of the visual editor.
All news: displays elements (news) of all information blocks of a certain type (e.g. News).
List of news: displays elements (news) of a certain information block.
News details: displays the details of a certain element of an information block.
Newsfeed: displays a series of news, which are in essence elements of one or more information blocks of one type.
RSS news (import): allows to import news in the RSS format from another site.
RSS news (export): exports news from the site to the RSS format.
There are also components version 2.0. A composite component News helps to create a news section on the site. Simple components version 2.0 (List of news, News details, Articles and news feed, etc.) have additional features.
You can add visual components to your pages in the visual HTML editor. Let us create a list of news on the main page, and give visitors an opportunity to view details about each news.
Open the main page (/index.php) for editing in the visual HTML editor.

Select the Content section on the Components sidebar. Open the News drop menu. Find the List of news component and drag-and-drop it to the page.

Configure the visual component:

specify the information block whose elements will be displayed in the newsfeed;
specify the detail page URL. By default, the data from information block settings will be used. We set here /content/news/index.php?news=#ELEMENT_ID#. The page /content/news/index.php will be created later.
set other parameters if required.

Save the page.

Now, create a page /content/news/index.php. This will be a news section.
As a result, the main page will contain the list of news: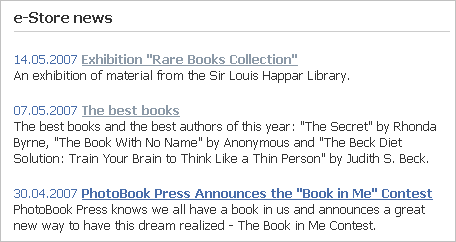 If a visitor clicks any news in the newsfeed, a page with the news details will open: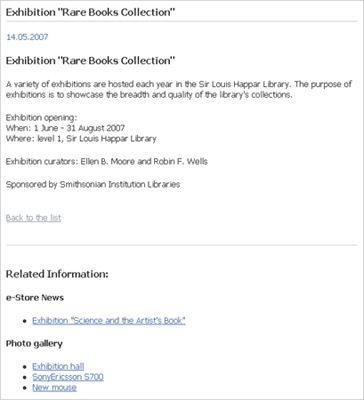 Creating a news section | Course description | Creating a product catalog