You can prepare documents (bills etc.) for printing by selecting the corresponding command in the action menu: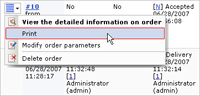 Clicking this item (Print) displays a from that displays information about the order and the purchased products (date, site, status etc.)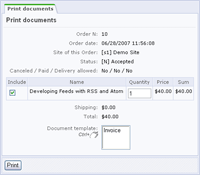 The Print documents form contains fields that have the following meaning.
General order information: ID; the order date, site and status.
Order items. The Include options allows to choose items to be printed. Some document templates are able to print only the required order items, for example: Invoice. If the selected template can print only the entire order, it will render all items regardless of the selection.


Note that the Quantity field can be modified. You can use this to print documents just for a part of the purchased items. For example, a customer ordered two phones, but you want to print the document only for one. Type the required quantity in this field, choose the required template and click Print - the system will create a document for the specified volume.

The type of document to be printed. You can print multiple documents for an order. To do so, select the required templates while holding the Ctrl key down.
To begin printing, click Print. The printout documents are opened in new windows. Some document templates allow to edit text information in them. If so, click Tab to highlight editable fields.

Files with the preset templates can be found in /bitrix/modules/sale/reports/.

If you want to modify any of the preset templates, copy the required template to /bitrix/admin/reports/ and edit it. Do not edit standard templates directly.



Orders | Course description | Discounts