Blog groups
A blog group define the subject to which the blog refers (e.g. "tourism", "software", "art"). Each blog in the system should belong to a certain group. You can create and edit groups on the Blog groups page (Services -> Blogs -> Blog groups):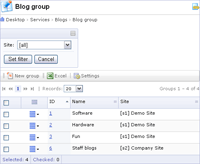 To add a new group, click New group on the context toolbar. To edit parameters of an existing group, click the group ID link or select Edit group parameters in the context menu: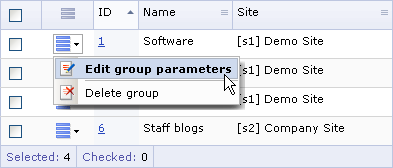 A blog group editing form has the following format: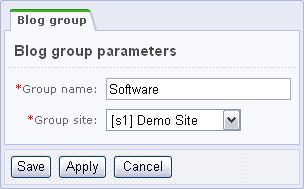 In the Group site field, choose the site on which blogs of an edited group would be available. This bounds the blog group to a certain site of the system, making new blogs of this group bound to this site.
Note: each blog must belong to a certain group. You can make this assignment in the blog editing form.
Creating and editing a blog
You can manage blogs in the Blogs form (Services -> Blogs -> Blogs):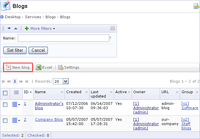 A new blog in the Control Panel can be created by clicking New blog on the context toolbar. Clicking this button opens a blog editing form: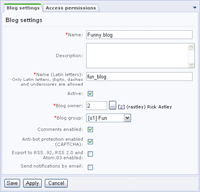 In addition to common parameters (the blog name, description, owner, group), you can define the following settings.
Enable comments - if checked, visitors can leave comments to posts in the blog. Only visitors belonging to a group that is granted appropriate permissions can create and add comments:

Note!

The two default user groups are available for a blog:

All visitors

and

Authorised visitors

. Users are free to create their own user groups, e.g.

friends

. New user groups can be created in the public section. Access permissions of user groups can be customised in the public section as well as in the

Control Panel

:

Anti-bot protection (CAPTCHA) - allows to enable or disable the use of CAPTCHA mechanism to prevent automated messages.
Export RSS .92, RSS 2.0 and Atom .03 - enables export of the blog data to RSS .92, RSS 2.0 or Atom .03. If the option is enabled, the blog pages will show button that, if clicked, will export data to one of these formats.
Send e-mail notifications - if checked, the blog owner will receive notifications about new comments and messages to their e-mail address.
Smileys
You can add and modify smileys that will be available in the blog messages, in the Blog smileys form (Services -> Blogs -> Smileys):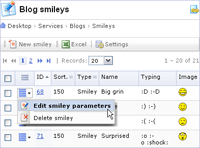 You can add more smileys by clicking New smiley, or edit an existing one by selecting the corresponding item in the context menu. This will open a smiley parameters editing form: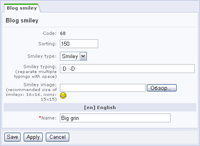 Module settings | Course description | Public interface