Newsletter categories are subscription rubrics to which visitors can subscribe. Visitors can subscribe to more than one rubric.
The module parameters (including message sending options) are defined in the module settings form (Settings -> System settings -> Module settings -> Subscription).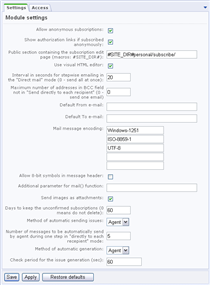 The settings form contains the following options:
The flag Allow anonymous subscriptions allows users to subscribe to newsletters without having to register at the site.
The field Public section containing the subscription edit page specifies the path to a public folder containing the subscription editor form. The path is relative to the site root. The field may include the #SITE_DIR# macro.
The fields Default From e-mail and Default To e-mail can be used to specify the e-mail addresses which will be used as the default sender and recipient addresses in all newsletter messages. However, you can change the default addresses every time you create a new message.
The Mail message encoding fields specify the encodings in which the e-mail messages can be created.
If you require the extended ASCII symbols (0-255), you can enable the Allow 8-bit symbols in message header option. Otherwise, the extended symbols will be printed in Base-64 encoding.
The fields Method of automatic issue sending and Method of automatic generation offers the following two options:

agent - the newsletter issues will be scheduled, generated and sent using internal tools of Bitrix Site Manager. Running the agent at the specified time requires that a site is requested (e.g. by a visitor who opens a site page). Otherwise, the agent will be run next time the site is requested. Thus, this method is reasonably effective for popular sites
cron - this method is only available on Unix based systems because it uses the cron demon of Unix. It is the best way to send newsletters if cron is available on your system since your site needs not be requested.
You can manage your newsletters in the Newsletter categories form (Services -> Newsletters -> Newsletter categories).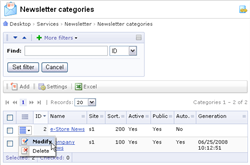 To create a new newsletter topic, click the Add button on the context toolbar. To edit an existing newsletter topic, select Modify in the context menu, or simply double-click the required newsletter topic.



Introduction to subsriptions and mailing lists | Course description | Manual mailing lists