Creating a newsletter issue
Newsletter issue is an e-mail message sent to subscribers of a newsletter category (rubric).
Note: Only issues for manual subscriptions need to be generated by hand. Issues of automatic subscriptions are generated by the system according to a defined schedule.
Messages can be managed on the Newsletter issues form (Services -> Newsletter -> Newsletter issues).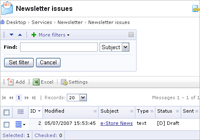 Here, you can click the Add button to create a new issue, or edit an existing one by double-clicking the row of a required issue.
The issue editing form includes the following tabs.
Posting issue
On this tab you will type the text of your newsletter message.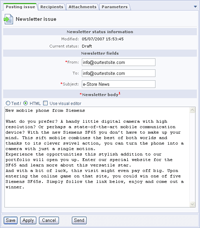 For an e-mail message to be sent and dispatched successfully, you must fill in the required message header fields: the sender, the default recipient and the subject.
Note:
By default, the sender and recipient addresses are inferred by the settings of Newsletter or Kernel modules.
Recipients
Here you can specify user groups or individual persons who will receive the issue message.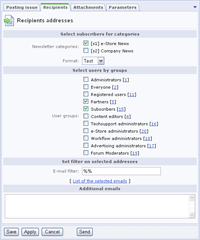 You can specify:
groups of persons who are the subscribers of one or more mailing list;
user groups;
e-mails of additional recipients.
Note:
You can use specify the e-mail address filter that will restrict destination addresses to its condition. For example: %@bitrixsoft.com.
Parameters
This tab contain other extra parameters that you can configure.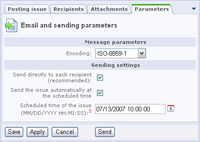 If you require that the To field contains an address of a respective recipient, enable the Send directly to each recipient option
You can instruct the system to send the issue automatically. Perform the following steps to do so:
enable the Send the issue automatically at the scheduled time option;
specify the date and time when the issue is to be sent;
send the message by clicking Send.
You can:
save the message as draft by clicking Save or Apply;
send the message immediately by clicking Send.
Issue status
An issue can be in one of the five statuses, each of which define its state:
Draft - the message is being edited and is not ready;
In progress - the message is currently being sent or is pending (for scheduled issues);
Sent - the message has been sent successfully;
Sent with errors - the message has been sent but some errors occurred while sending;
Paused - message sending is stopped.
The following diagram illustrates the issue status flow.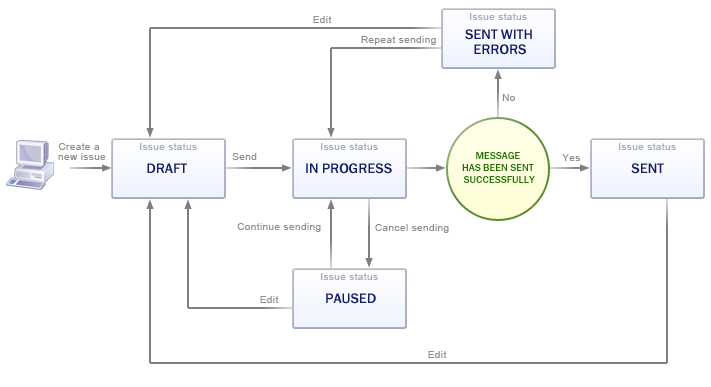 Providing subscriptions for visitors | Course description | Automatic mailing lists