Using keywords to manage banner advertising is one of the main tactics to target your advertisements. This method allows you to:
show exact advertisement that is wanted by certain visitors. You can show banners on pages containing information that is of particular interest to this very group of visitors;
limit banner showings on certain pages depending on correlation between the banner message and the information that a page contains.
This method requires that you set up the following sets of keywords:
banner keywords;
page keywords:
You can specify banner keywords in the Keywords field in the banner editing field, the Targeting tab (Services -> Advertising -> Banners):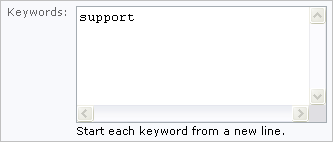 Page desired keywords can be set in the page properties form using the special predefined property adv_desired_target_keywords.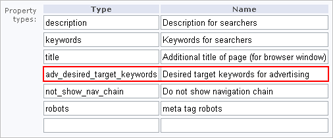 Note! If the value of the adv_desired_target_keywords property is empty, the system uses the keywords property to define keywords.

You can find more information in the system integration training course.



Sample uses | Course description | Advertisting reports