A training course divided in chapters is definitely more convenient to handle by on-line users since it allows to avoid loading all the lessons at once.
You can create a chapter in the following ways:
by clicking the plus sign (+) in the Chapters column:

by clicking the New chapter button on the context bar of a chapter report form
(Services -> e-Learning -> Courses -> <your course> -> Chapters):
Main parameters of a chapter are: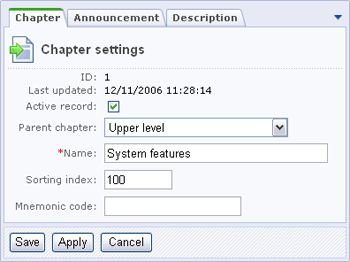 parent level of a chapter. If a new chapter is the descendant of another one, select it in the Parent chapter list;
the name (will be displayed in the tree menu in both the Control Panel and the public section);
short and full descriptions.
After the chapter is created, it is added to the list of chapters:



Creating a training course | Course description | Creating lessons