Components of the e-Learning module are used to create and publish web courses.
Note
: The demo version has some examples of web courses created with these components. The sample pages include:
a list of web courses;
a course view page.
These pages are located in
/communication/learning/
and
/communication/learning/course/
.
To view how these pages run, type in your browser: http://<demo_site_address>/communication /learning/. This will open a page showing all the currently existing courses.
Publishing a list of courses
The Course list visual component does all the job required to show the list of existing training courses:
Important! You have to specify the course view page in the component properties. If no such page exists, you should create it.
Publishing the course
The demo version implements the course view section using the Learning course composite component, not using the search engine friendly mode.
Note: you have to place this component on a page no other than the one previously specified in the Course list component properties.
Important!
The system renders the course description, sections, lessons and tests using an independent design template. The course design template application conditions can be specified just in the same manner as for any other templates. Specifically, set the path to the web course section as the condition, in the site settings.

The demo version displays web courses based on the «E-learning template». This template is set to be applied to pages that reside in /communication/learning/course/.
When configuring the composite component parameters, you should remember to specify variables that will contain page identifiers: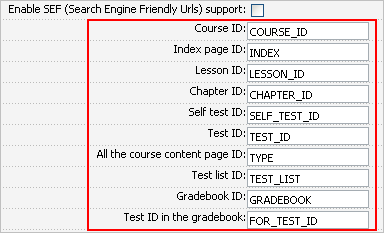 The settings shown above use CHAPTER_ID to view chapter details, LESSON_ID - lesson details etc.
Tests
Following lessons and chapters of a course, the system displays tests for that course. The list of tests is published using the TEST_LIST identifier.
A page that displays an individual test is invoked using the TEST_ID identifier.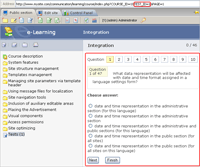 Upon having taken the test, a user will see the corresponding message. To view the test results, they can click the View test results link: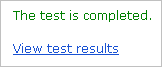 A page that shows the test results is invoked using the GRADEBOOK identifier.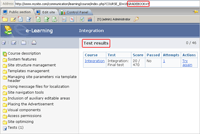 Note: this page displays information about all tests that a user has taken.



Publishing a training course | Course description | Search