Service levels can be configured on the Support levels (SLA) page (Services -> Helpdesk -> Support levels).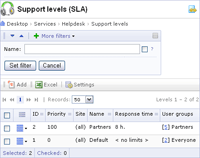 SLA defines:
ticket response time (i.e. time within which a ticket is to be replied);

user groups that can expect this quality of support;

schedule by which support is provided;

accessible categories and ticket emergency levels as well as ticket response ranks.

For example, users with a common SLA can create tickets with low emergency level, while the Partners SLA clients can create tickets with low, middle and high emergency levels.


Dictionaries | Course description | How to assign the ticket duty