Adding An Item To A Collection
The following steps are required to upload new content to Media Library:
Click New Element on the Media Library context toolbar, or select Add Element in the action menu () of a required collection;
In the item creation form, select the file you want to upload to Media Library:

The file can be uploaded from your local machine, or it can be selected in the file structure. To upload a local file, click Browse and select the file in the operating system file dialog. To find and add a file from the server file structure, click the Select Existing link.

Fill in other form fields as appropriate;
Click Save. The new item will be added to the selected collections.
Only the files matching the file extensions specified in the Media Library settings and the collection parameters can be added to the library. Whenever a user attempts to upload a file with an extension other than allowed by these settings, the system will issue a warning saying that the file cannot be added to the library. To add more possible file extensions, open the Site Explorer module settings page:
Multiple File Upload
The mass file upload feature takes advantage of Java and ActiveX controls which allows users to select and upload as many files as they want at a single click.
To upload multiple files to the library:
Click Mass Upload on the context toolbar to navigate to a multiple file upload page:

Select the destination collection to which the files are to be added:

Note: you can add the uploaded files to other collections later, once the upload process is completed.

In the tree in the left pane, select a folder containing the files you want to upload:

Then, in the right pane, select the files you want to upload to the library:

Click Send.
Parameters Of The Uploaded Items
Once the files have been uploaded to Media Library, the system will open the Parameters of new elements page: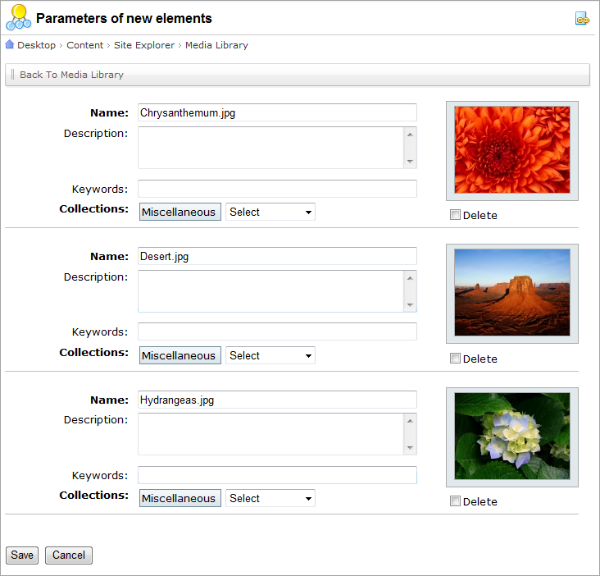 Each item has a dedicated form in which you can edit the item parameters and link it to other collections:

Fill in the form fields for each item. Notice that the only required options are the item name and the collection to which an item is bound. As a service feature, each item has a Delete checkbox which, being ticked, specifies to delete the item when the Save button is clicked.
Click Save to apply the new parameter values.

Note: a file can be added (linked to) more than one collection without having to upload it many times. Open the file (a collection item) for editing and specify an additional collection.



Using Collections | Course description | Managing The Collection Items