Wiki makes use of the following terminology.
An internal link is a hyperlink that is a reference or navigation element in a document to another section of the same document or to another document that may be on or part of the same website. Such links are commonly shown in blue color.
A red link signifies a link to a page that does not exist in Wiki.
An external link is a hyperlink to web pages outside this Wiki.
Wiki markup (wikitext language) aids to quickly outline structural elements and hyperlinks in a wiki page.
A category unifies semantically analogous wiki pages. Each page can be bound to multiple categories. Nested categories are possible.
Tags are used to mark wiki pages for quick navigation.
Version is a saved entry in the wiki page history.
Current version is the most recent version of a wiki page visible to the users.
The Wiki Page Layout
A common wiki page has the following functional and visual areas.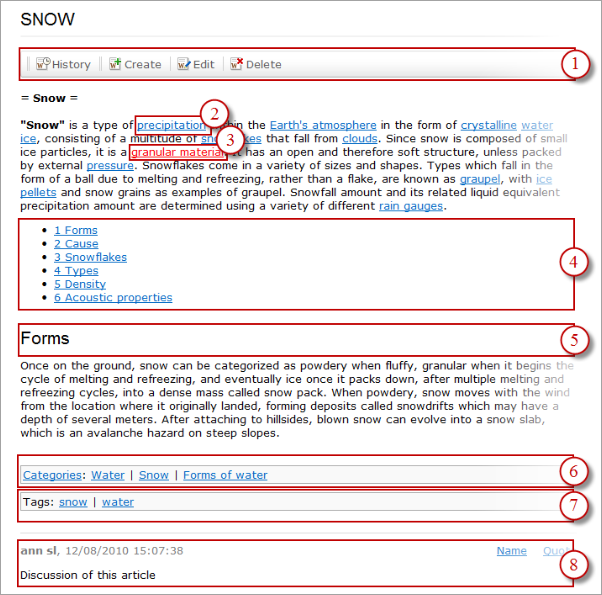 The context toolbar functions:

History shows the available versions of a wiki page. This button is unavailable if the Business Processes module is not installed;
Create: creates a new wiki page;
Edit: opens a current page for editing;
Delete: deletes a current wiki page. Note that this will delete the wiki page history as well. All the links to this page in other wiki pages will become unavailable (which means they will be visible as red links).

Internal and/or External links.
Red links to non-existing pages.
Contents list: this block is added automatically if a wiki page has headings.
Headings of various levels.
Categories to which a wiki page relates.
Tags added by a wiki page author. Tags cannot exist in social network wikis.
Commentaries left by other users.


Creating A Wiki Section | Course description | Creating A Wiki Page