Registration entitles you to obtain latest system updates and receive support from the Bitrix technical support service.
Moreover, having your commercial copy registered you can access the Bitrix private forum where users and Bitrix developers communicate and discuss important issues, resolve user's problems.
To register your copy:
Open Control Panel.
Click Settings -> Update to open the system update form.
Since your copy is not registered yet, you will see the following error message: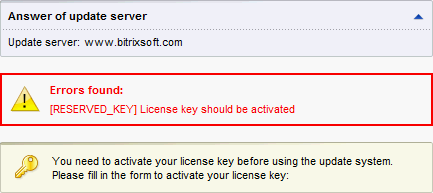 Below this message is the license key activation form: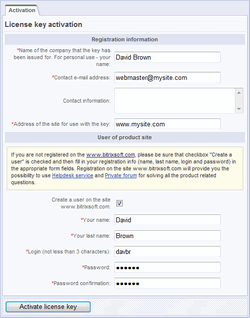 Note
: fields marked with asterisk (
*
) are required.
Fill in the following fields:
Company name: specify here the name of a company that is the key owner. If the owner is a private person, type their full name here;
Contact e-mail address: type the e-mail address for possible correspondence with Bitrix specialists;
Contact information: here you can provide any additional information you find important: additional e-mail address; postal address; phone number etc.;
Address of the site for use with the key: type here the URL of the site that will be managed using this copy (which essentially means this license key) of Bitrix Site Manager;
Create user at www.bitrixsoft.com: check this box if you have not registered at the Bitrix web site yet. If so, you will be registered there upon successful activation with the provided personal information. As has been said before, registration enables you to contact the techsupport service directly and post to the private forum.
Click Activate license key. Now the license is active; you can start using your site.



Registration procedure | Course description | Registering a trial version (DEMO)