If you install the trial version, you will see the License not found message when opening the Settings -> Update page.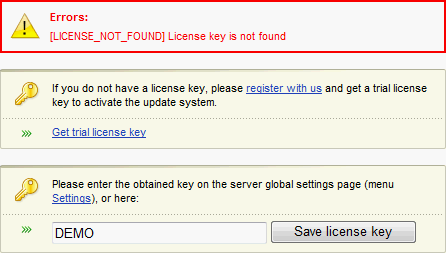 Essentially, a local trial version does not require that you obtain a license key. It only enables the system to receive updates. Obtaining a trial key requires that you register at the Bitrix web site.
Click Get trial license key. This will open the trial registration page at the Bitrix web site.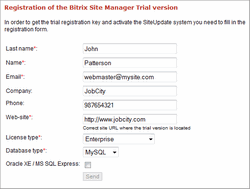 Fill in the form fields:
Last name, First name: specify your last and first names;
E-mail: specify your e-mail address. The trial key will be sent to this address;
Company: the company name;
Phone: the phone number;
Site URL: specify the exact address of a site that runs the trial version of the system;
License type: select the version of the product you have just installed.
Database type: select the type of the database on which the system runs.
If you use free versions of Oracle XE / MS SQL Express, enable the Oracle XE / MS SQL Express option.
Complete the form and click Send. The system will inform you that your request is now put in the submission queue.
A message containing the license key and the period of validity will be sent to the address you have previously specified in the trial registration form. You can copy and paste this key in the Control Panel form where you clicked the Get trial license key link, or in the Kernel module settings page.
Open Control Panel.
Open the Kernel module settings page: Settings -> System settings -> Module settings.
Open the Update System tab.
Paste the key in the License Key field.
Now you can obtain updates during the 30-day trial period.



Registering a commercial version | Course description | Registering a trial version using a commercial key