Click New Installation in the welcome screen. This will run the Bitrix web project installation wizard.
The browser will show a new screen suggesting to select the software product to install: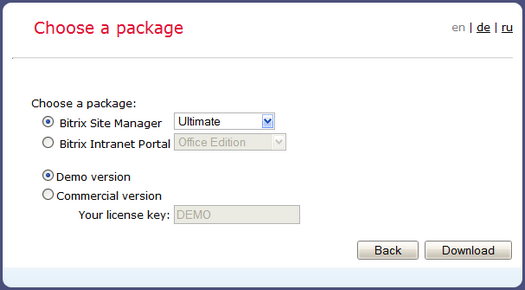 In the Choose a package group, select the product to install – Bitrix Site Manager to create a site on the Web or Bitrix Intranet Portal to create a corporate web portal.
Choose the version type:

Demo version - can be installed with a trial key or without any key at all.
Commercial version - this option will require that you provide an existing valid license key.

Click Download. The wizard is now downloading the system files from the Bitrix server:
The selected software product will be downloaded to the site root directory.
You can always click Back to revert to selecting the software product if you want to change your choice.
When download is complete, the wizard will immediately unpack it:
As soon as all the files are extracted, the first installation stage finishes and the wizard of the selected software product is started.
Attention! After the installation, don't forget to delete the bitrixsetup.php script from the root directory. This file, if accessed, may damage your site or compromise its security.
Note
:
If your virtual machine is unable to access Internet for some reason, you can download the distribution package manually and upload it to the virtual machine.
To upload the package to the virtual machine, establish a secure SFTP connection with it using the parameters obtained previously (in this example, the IP address is 192.168.0.143; login: root; password: bitrix). The distribution package must be packed as a .tar.gz archive and reside in the /home/bitrix/www/ folder.
If the system detects an archive file in this folder, the Choose A Package dialog box will show the archive file name: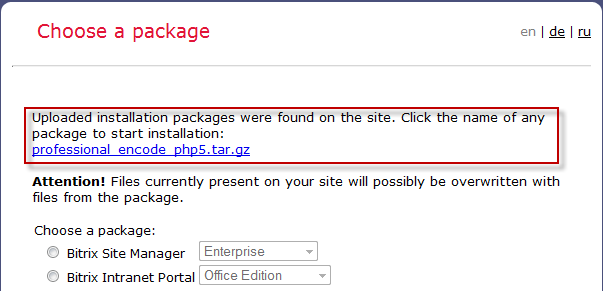 Click the file name to select this package and start the installation.



Deploying a Bitrix based Web Project | Course description | Bitrix Site Manager Installation