You can create discounts that can be applied to orders depending on the order price. Discounts can be active during the certain period of time, or permanent.
Discounts can be managed here: e-Store -> e-Store settings -> Discounts:

This table displays key information on a discount. To create a new discount, click Add a new discount on the context toolbar. The discount editing form will open: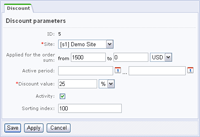 Each site has individual discounts. Therefore, select the site to which you want to add the discount.
Apply to orders with price: here you can specify the price range of an order (without the cost of delivery) to which the discount can be applied. You can specify only one boundary. In other words, a range of $1500 to 0 means that a discount will be applied to orders whose price is $1500 or higher.
Active period: as with the previous field, you can specify only one date. If both fields are empty, the discount is eternal.
Discount value: can be a percent value (select % in the drop-down list), or it can be specified in the currency of the order price range (select empty item in the drop-down list).
Only the discounts whose option Active is marked can be applied to orders.
The Sorting index field specifies the position of a given discount in the list. But what is more important, the system uses this value if more than one discount can be applied to an order: a discount with the lesser sorting index comes into play.
In the public section, the discount is activated during the ordering procedure. The discount amount is displayed in the order contents form:
In this example, our discount has been applied because a customer's order exceeds $500.



Printing order documents | Course description | Using taxes