With the Web Forms module, you can create an unlimited number of web forms, manage and publish them.
The main purpose of web forms is to provide site visitor feedback. For example, you can use web forms to:
| | |
| --- | --- |
| | |
| fill and store surveys and questionaires; | |
| receive queries from site visitors (e.g. requests for products, applications for meetings etc) and process any other data that requires using forms to input information. | |
The system stores information, obtained from visitors via web forms, in the database. You can specify an e-mail address to which a notification will be sent each time a web form is posted.
Assume that you have placed a job application form on your site: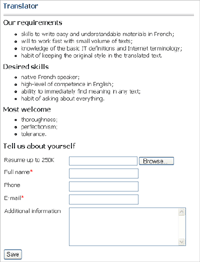 Every time the form is completed, a new application is registered in the system: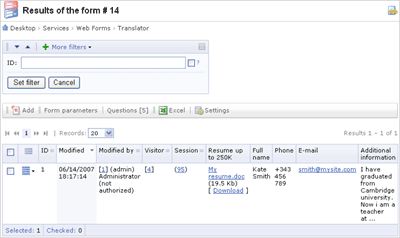 and a notification is sent to à responsible person (e.g. personnel department manager) via the e-mail.
Note: e-mail dispatch parameters are configured in e-mail templates, which is only available in the advanced editing mode.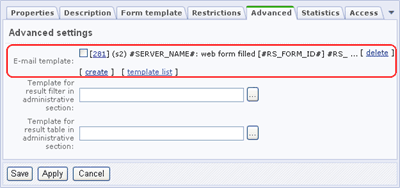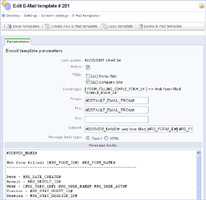 Administrator can configure a web form and its results in such a way that they will be accessible only by members of a certain user group. For example, site visitors can be permitted to modify their CV's.
Note: statuses are only available in the advanced editing mode.
The Web Forms module tightly integrates with the Web Analytics module which allows to analyse web form completion dynamics and obtain information on visitors who posted forms (each web form can have its own event types).



Web forms | Course description | Managing web forms