Bitrix Intranet Portal is a software suite aimed to help create and manage the company's internal web resource that would embrace communicational, organizational and HR tasks of a company.
Minimum System Requirements
For successful installation and functioning, the server software must meet the following minimum system requirements.
An Apache web server. Install it if not installed yet and configure it to support PHP. The minimum requirements are Apache version 1.3 or higher and PHP version 4.1.2 or higher.
A database engine (MySQL version 4.0.18 or higher, Oracle 10g or higher or MSSQL 2000 or higher).
If you install the trial or encoded version, install and configure free Zend Optimizer version 3.3.0 or higher.
To install the Oracle version, ensure that the Oracle 9 client is installed; create a new user.
If you reinstall the system, delete tables from the database.
Make sure your disc has 10 MB of free space for the update system operation.
Public Section
You can select any design for the intranet portal. By default, you can select one of the four templates in one of the three-color spectrums at the installation time: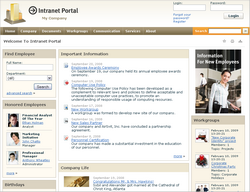 In future, you can change the design template by running the Configuration Wizard. See the installation guide for more information on these actions.
By default, the intranet portal has the following structure.
Main page – this is the first page of the intranet portal that introduces a company to a user. It displays the company essential information.
Employees – this area is used for communication; contains all the required information about the company staff. Here, you can search for an employee or obtain the detailed information (available personal or official) about them and their presence at the office.
Documents –provides teamwork features. The access to all the site documents follows the permissions of a group to which a user belong.
Workgroups –contains information on the company workgroups, which in their turn are grouped by topic, for example: Projects, Managers etc. The group topics are defined by the portal administration.
Communication – the section that offers many various features for the company members to communicate.
Services – offers special services and useful information to employees. Here, you can send a request, obtain technical support etc.
Company – this section contains various information about the company.
If you want to apply your own design template, you should first integrate it in Bitrix Intranet Portal.
Control Panel
The Control Panel interface manages all the system settings, individual modules and the portal content.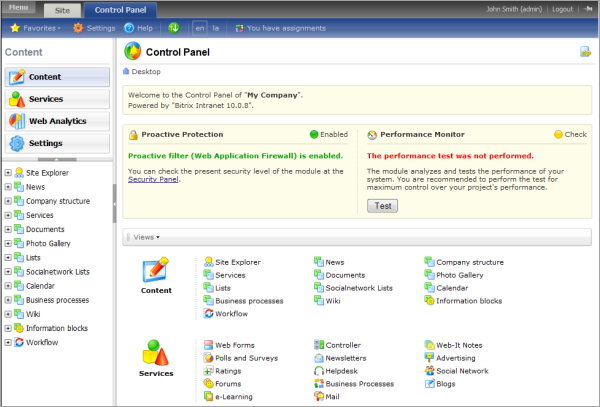 Control Panel allows to:
configure the system settings;
upload and install system updates;
configure the parameters of individual modules;
manage users and user groups;
create the portal sections and pages;
configure the access permissions to the portal pages and sections;
perform the portal management related actions.
Note! This course uses the words site and portal as synonyms.



Course description | Managing Users