Attention! You should make a distinction between the concepts: user group and workgroup within the context of the social network. A workgroup is a group of employees gathered together to solve a task within this context. However, they can belong to different user groups.
The system comes with several preset user groups. The groups are managed on the User groups page: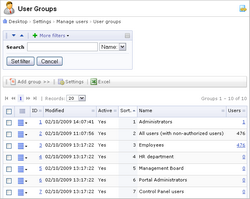 Note!
The two user groups always exist in the system:
All users
(which implies unauthorized users as well) and
Administrators
:
by default, all unregistered users who have only a permission to view the site public pages belong to All users (including unauthorized users);
the site administrators having full access permission (including changing access permission of other users) belong to Administrators.
You can edit the parameters of these user groups (name, description, access permissions), but the groups cannot be deleted.
Creating New Groups
You can create your own user groups if needed. For this, open Settings > Manage users > User groups.
Click Add group on the context toolbar. A new group creation form will open: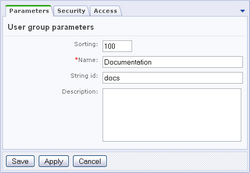 Fill in the form fields. The fields are described in detail in the software documentation (click Help on the Control Panel toolbar).

Save changes. The group will appear in the groups list.

Note! Groups can be created automatically when importing users from external sources.

Attention!

Bear in mind that the

Access

tab is not the only control point to configure group access permissions. An individual access permission can be assigned to an information block. Moreover, you can specify access permissions for a page or a section other than specified in the

Access

tab.

For details on access permission configuration, see also the

System administration

course.



Managing Users | Course description | Users