Tracking information about changes in the career of employees requires an individual type of information block (for example, Company structure), and an information block of this type (e.g. Staff Changes) that will contain records about the staff changes.
The portal user groups that can create or edit the data records are defined in the information block access settings: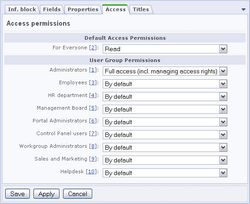 In the illustration above, only the portal administrators can manage the staff change records.
Creating a Record
To add a staff change record, open Content > Company structure > Staff Changes. Click Add record on the context toolbar to open a record settings form: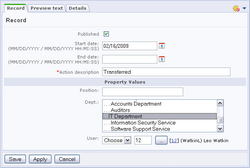 Check the Published box to make the employee status change to show at the portal. The optional fields Start date and End date indicate the period during which an employee is in the specified status. Remember to fill in the Action description field. For example, type Transferred here if a person has been appointed to another department.
In the User field, select an employee to whom the record applies.
Switch to the Preview text tab. Enter brief information about the record. The text will be shown as the title of the employee profile on the staff changes page: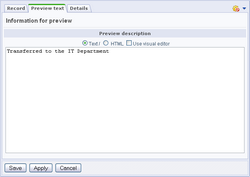 Save changes by clicking Save.
Publishing Staff Changes
The Staff Changes component (bitrix:intranet.structure.events) displays the company staff changes in the public section. Add the component to a page and configure the parameters: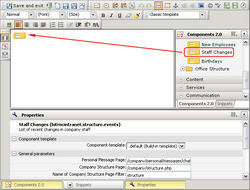 The component can show the staff changes in the whole company or only in a certain department: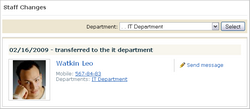 Finding Users | Course description | Absence Chart