Any folder in the document library that can be accessed according to the user permissions, can be mapped to a network drive or folder at any Intranet portal computer. Being mapped, a folder can be browsed using Windows Explorer. This feature is available in the Windows operating systems, XP and newer with Internet Explorer.
Browsing a Web Folder in Internet Explorer
Open the required document library folder in your browser. Click Network Drive on the context toolbar:

When asked, enter your User name and Password: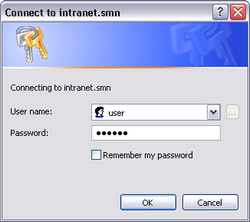 Windows Explorer will open a window showing the contents of the specified folder: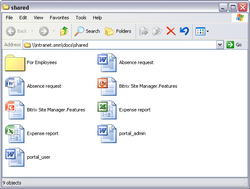 Note! This method of connection may possibly fail due to improper parameters in the Windows registry. If so, please contact your portal administrator.
Adding a Web Folder to Network Places
Run Windows Explorer. Select Service -> Map Network Drive. Click the link Sign-up for online storage or connect to a network server to run Add Network Place Wizard: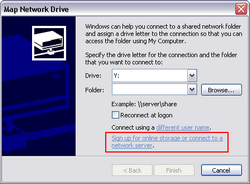 The wizard window will appear: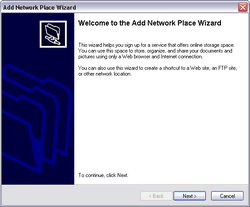 Click Next here.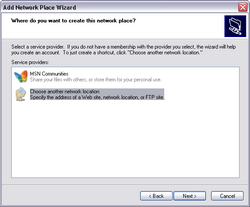 In this window, click Choose another network location and then click Next. The next Wizard step will open: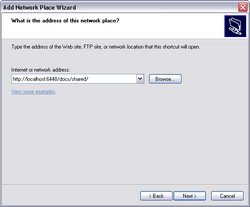 Type the URL of the mapping folder in the Internet or network address field: http://<your_server>/docs/shared/. Click Next.
If prompted for a User name and Password, enter your login and password, and then click OK. The system will authorize you and open the next Wizard step: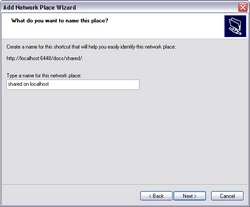 In this step, you can specify an arbitrary title for the mapped folder. By default, the title is the folder name. Click Next. The last step will open, in which the Wizard notifies that the folder has been successfully mapped and offers an option to open the folder when you finish the Wizard.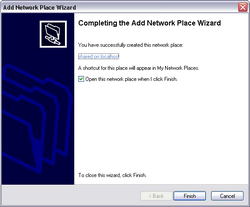 Click Finish here.
The system will map the folder and, if you have chosen to open the folder, open the Windows Explorer window showing with the folder mapped: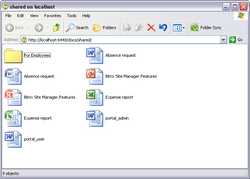 The folder is now always available in Windows Explorer. To open it, select Start > My Network Places > folder name.
Mapping the Library as a Network Drive



Note! This method of connection has known limitations in Windows XP. If you have any problems, please contact your portal administrator.

Run Windows Explorer. Select Tools > Map Network Drive. The network disc wizard will open. In the Drive field, specify a letter to map the folder to. In the Folder field, enter the path to the library: http://<your_server>/docs/shared/. If you want this folder to be available when the system starts, check the Reconnect at logon option. Click Ready.

The authorization dialog will open. Enter your login and password. Click OK. The system will authorize you and open the mapped folder in a Windows Explorer window.

Later, you can open the folder in Windows Explorer in which the folder is shown as a drive under My Computer, or in any file manager.



Document Operations in a Web Browser | Course description | Folder Mapping Issues in Windows