Creating a request implies that you create a web form for it. Open the page Services > Web Forms > Manage Forms. Click Create on the context toolbar to bring up the web form creation window: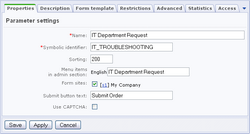 Note: web form creation form must be in extended mode (disable simple mode in the Web Forms module settings).
Specify the web form Name and the Symbolic identifier (the required fields). Other fields are at your discretion. Open the Access tab and assign access permissions as required. Save changes..
Open the list of web form questions by clicking Questions on the web form context toolbar. Click Add. The following form will show: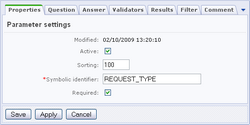 Provide general parameters of the new question on the Properties tab. Click the Question tab and type the question text. If your question suggests possible answers, add them on the corresponding tab. Save changes.
In order to track the request status, create the web form statuses. For example:

Besides, you can create an additional field for your web form (e.g. Reply) in which an administrator or other employee can leave comments regarding request processing.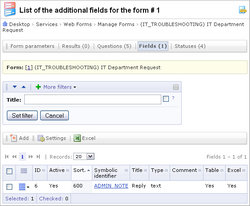 Similarly, create web forms for all requests you are planning to introduce at your portal. All your web forms will show at the forms page Services > Web Forms > Manage Forms: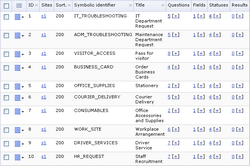 e-Orders | Course description | The Portal User Interface for e-Requests