The Photogallery 2.0 module allows you to show all photos and albums of the social network users and workgroups on a single page.
This can be achieved by creating a new page and adding the component Photogallery 2.0 (multiuser) (bitrix:photogallery_user) to it: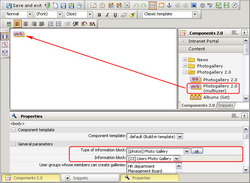 The only mandatory component parameters are the Type of information block and the Information block. For example, select the Users Photo Gallery information block to show the employees' galleries.
Following the configuration performed, all the personal photo galleries will show as the links titled by the names of the employees. The page shows the published photos approved by the portal administrator: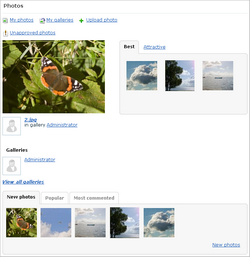 If a permission to view the user's photos has been assigned in the user profile, a click on a photo or a user name opens the user personal page where other employees can view, vote and discuss the photos.

The workgroup photo gallery can be configured in the similar manner.



Social Network Photo Galleries | Course description | Company Photo Gallery