Forum Groups
The forums groups can be used, for example, to consolidate forum threads by any trait: News Comments, Photos Comments etc. A forum can be bound to one of the existing forum groups, or it can be loose.
You can create a new forum group by opening the Control Panel page: Services > Forums > Groups. Click New forum group on the context toolbar to bring up the forum group creation form: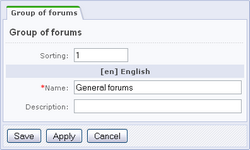 Here, fill in the Sorting and Name fields for all languages that are installed in your portal. Save changes.
Create the two forum groups: Forum to comments and Hidden forums. The forum groups page will show them as illustrated below: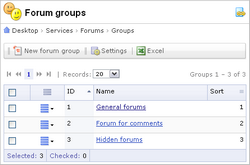 Forums
In order to create a new forum, navigate to Services > Forums > List of forums. Click New forum on the context toolbar. The forum creation form will bring up: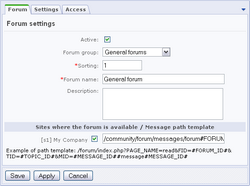 Select here the Forum group to which the new forum will be bound. Sorting and Forum name are the required fields, so be sure to specify the forum position in the forums list and give your forum a name. Click the Access tab: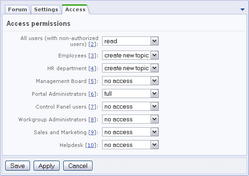 Assign the required access level to the user groups you want to be able to access the forum. Save changes.
Create the comments forums (e.g. News discussion and Photo gallery discussions) in the similar way, and a forum for the users (e.g. Users and groups). In the end, the forums list will show your new forums: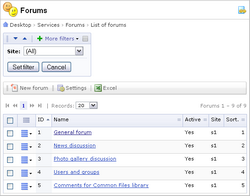 Forum | Course description | Showing Forums in the Public Section