The extranet site wizard tunes the module parameters automatically. You are not recommended to amend the suggested settings unless you clearly understand their meaning.
However, if the extranet site was created without the wizard, the administrator will have to configure it manually. To change the module parameters, go to Settings > System Settings > Module Settings > Extranet to open the module settings form: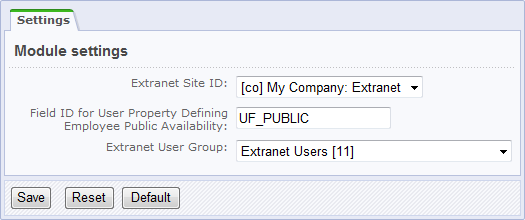 Extranet Site ID: select the site that the system will use as an extranet site;
Field ID for User Property Defining Employee Public Availability: type the name of a user property to indicate a public employee. The code must be previously created in Settings > System Settings > User Fields.
Extranet User Group: any user group can be selected for use with the extranet site; however, it is strongly recommended to use a special group.


Installing And Configuring The Module And The Extranet Website | Course description | Access Permissions For Extranet Users