To post an advertisement, open the Classifieds page (Communication > Classifieds).
Click Classifieds to open the creation form: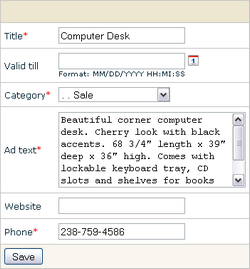 Fill in the following fields:
Type a short title for your ad.
In the Category field, select the most appropriate category for your advertisement.
Type in the text of the advertisement.
Specify the contact information in the following fields: website, phone.
Click Save. The new advertisement will look similar to the following:

The My Ads link opens a page containing all of your advertisements.



Photo gallery | Course description | Instant Messenger Configuration