The portal users can search any information in almost anything: static pages, documents, user profiles, news, forum and blogs.
The search form suitably resides in the right corner of the portal screen:

The search system adds all possible titles to the search index and shows them as search tips when a user is typing the search text in the search input field. However, you may find that such tips are contextually different to what Google or other web search engines offer: the portal search form shows tips that are most appropriate for the employee rather than most frequently accessed or wanted web pages, like the web search systems do.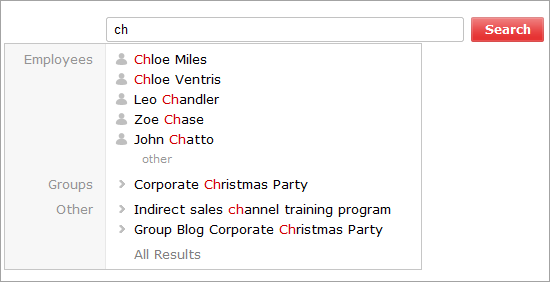 A dedicated search page is also available and can be accessed by clicking the link Search at the page bottom.

To find a user, just enter his or her name in the search field. However, a special user search page exists providing extensive filters allowing for various search criteria to be applied.



The Page "My Portal" | Course description | Employees