For employees who have Extranet access permission a special Extranet link exists on top of the intranet portal screen: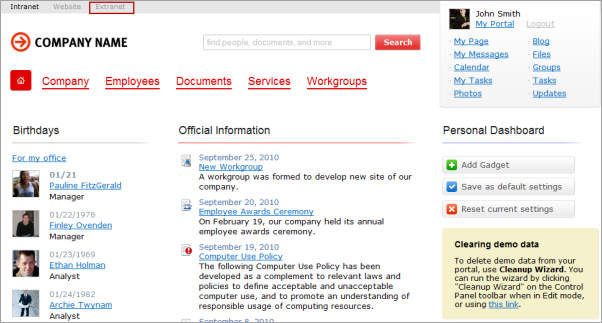 When clicked, this link opens the Extranet site: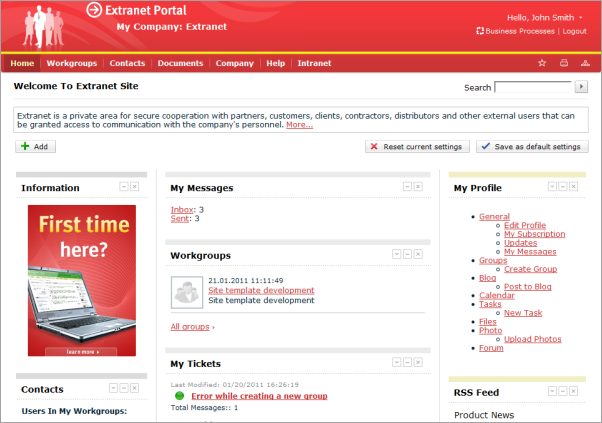 To return to the intranet realm, click Intranet.
The external users receive a special Extranet link in their invitation. However, they will neither see the Intranet link nor be able to access the intranet portal.
In addition to common intranet portal functionality, Extranet site has some extra features.
The main workplace in Extranet is a workgroup. An Extranet workgroup is almost the same as the portal workgroup.
The section Contacts is similar to the portal's Employees, contains available external and internal contacts, the absence chart, the birthdays table and the blog LiveFeed.
The section Documents is configured to contain only the extranet files.
The company information page includes the subscription form.
• The help section contains a brief introduction to the extranet features and includes a techsupport contact form.
The following differences should be taken into consideration when working with the Extranet site.
external users (or intranet portal users) can be invited when creating or editing the extranet workgroup;
the extranet workgroup is visible and available only to the group members;
the external members of archived extranet workgroups can access the extranet site until they are removed from their respective workgroups;
only the contacts (calendars and tasks) that are accessible by the external user can be exported to MS Outlook;
most of the standard intranet portal gadgets are unavailable, but there are additional special Extranet gadgets: My Tickets and Contacts.


Extranet | Course description | Inviting Users To Extranet