You can invite a user to the Extranet site using the workgroups only. First of all, you have to create a workgroup, and then invite the company employees and external users to it.
Create a new Extranet workgroup, or open an existing one.
Click the link Invite to Group to open the form Invitation to Group:

Fill in the form:

Company Employees: specify here the names of your colleagues you want to invite, or use the link Add From Structure to select users from the company tree;
External Users: specify the e-mails of the external users. The e-mail addresses must be valid and in canonical format: xxx@site.com or "first name last name" ; separate multiple entries with a newline or a comma;
Your massage: type here the message that will be sent as an invitation.

Click Send Invitation.
После отправки приглашения сотрудникам и внешним пользователям уже добавленным в пользователи сайта экстранета придет типовое приглашение в группу.
The employees and the external users will receive the invitation to join the workgroup. Unregistered external persons will receive the invitation e-mails. They will have to click the link in the invitation and fill in the authorization form: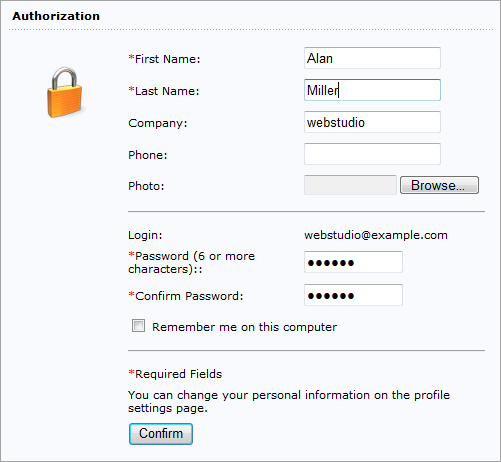 Once authorized, a new user will be able to log in the Extranet site and accept the invitation.

The workgroup access permissions can be configured to enable invitations from any group member. If the inviting person is not a company employee, the link Add From Structure is unavailable.



Extranet Basics | Course description