News
Bitrix Extends Online Marketing Opportunities for Partners
07/27/2010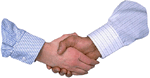 Official partners selling Bitrix® Intranet Portal are entitled to participate in the Bitrix Google AdWords campaign to extend their online marketing activities
ALEXANDRIA , VA. – Jul. 27, 2010 – Bitrix, Inc. (www.bitrixsoft.com), a technology trendsetter in web business communications, announces a ground-breaking channel incentives program for this August. According to the new initiative, any Bitrix partner that sells a Bitrix® Intranet Portal on-premise license with at least one hundred users will get a free mention in the Google AdWords campaign on the partner's territory which Bitrix will be running in September, with an estimated total value of approximately 3 000 USD.
The program has the primary goal of providing successful channel partners with free marketing to generate additional income in September by adding their company reference to online ad campaigns which Bitrix finances on a regular basis. To qualify for the program, official partners should meet the Bitrix Intranet Portal sales volume level during August, 2010, not including sales generated as a result of the Leads Forwarding initiative.
This new incentive continues the strategic channel development plan which began last month by announcing a Leads Forwarding program. Nikolay Vasiliev, International Distribution Director at Bitrix, emphasizes: "This new step is giving the channel even more than forwarding the leads – we're actually associating ourselves with our most successful partners by placing joint online ads".
The incentive program works for all existing and new Bitrix Channel Partners worldwide. For the DACH region (Germany, Austria and Switzerland) the initiative will be adjusted according to local conditions and will go under a joint marketing program with ISP*D, a leading European software distributor holding the Bitrix Distributor partner status.
For additional information, interested parties are requested to apply to their Channel Account Managers or contact the Bitrix Partner Team at partners@bitrixsoft.com.